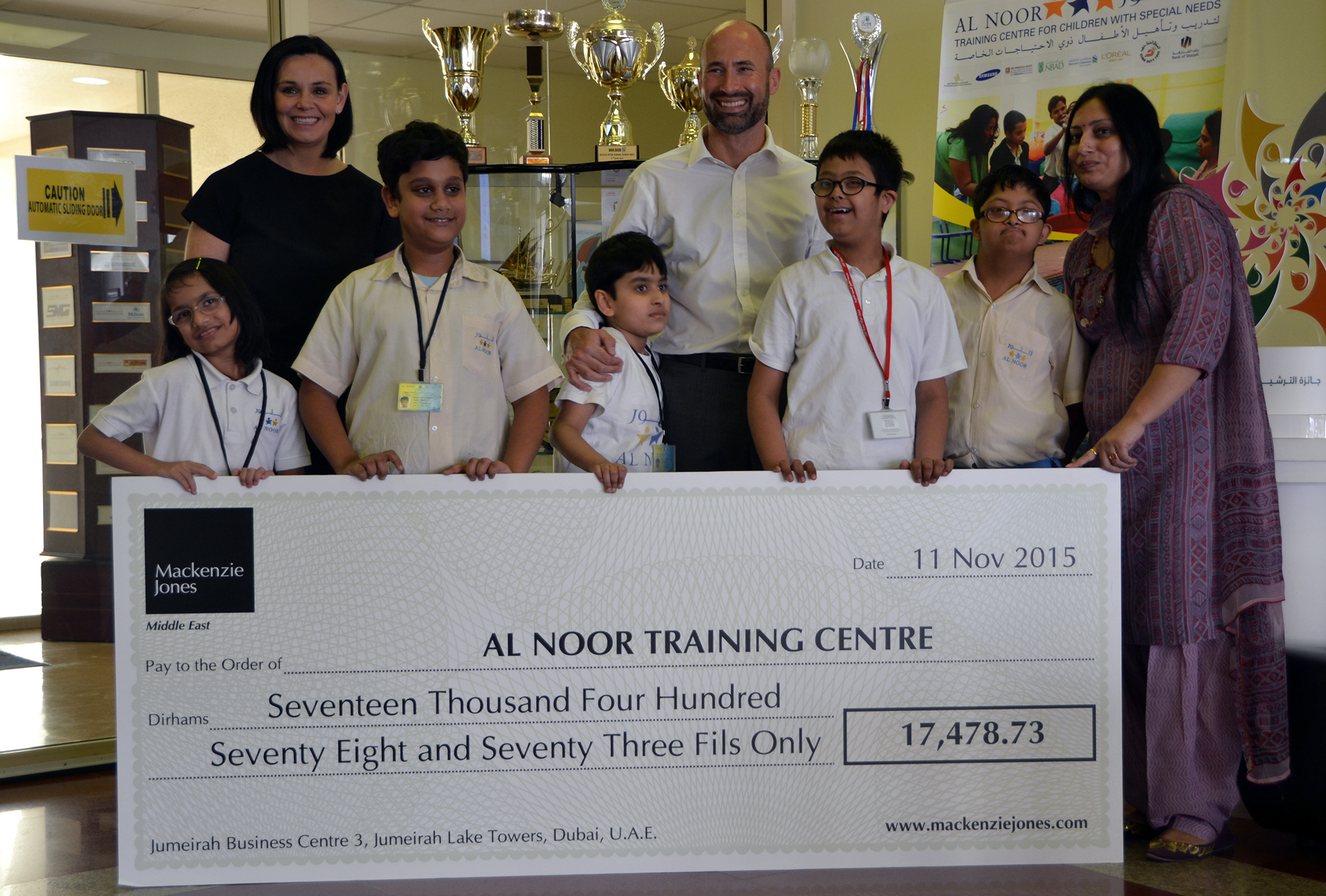 With the challenge behind us, this week we had the much more pleasant part of our fundraising, handing over the cheque!  David and I visited Al Noor's purpose built Training Centre in Al Barsha – we were met in reception by some of  the team and some great kids who gratefully accepted our BIG cheque for AED 17,478.73 – although the pre-event training and the challenge itself were hard work, every bit of the slog and effort was worth it.  Seeing first-hand where the money we raised will go was humbling.
The staff at Al Noor truly does amazing work, they make a difference every day to 260 children from all different nationalities between the ages of 3 to 18.  They tailor learning and development to each child's own ability and individual needs.  As we walked around the centre with Apple (Al Noor's Marketing Manager), she knew every child's name and she took the time to introduce us to the children, who were very keen to give us high fives and in some cases hugs!  We saw children practicing their fine motor skills and learning to feed themselves and gain some independence; kids practicing their gross motor skills, throwing and catching a basketball and older teenage children in the art department screen printing and heat printing t-shirts to sell in Al Noor's own enterprise "Smiles N Stuff" which is their on-site and online store http://smilesnstuff.ae/ (you can also pick up their products in Bloomingdales or Dubai Duty Free).
Chantal who works in their onsite store, is 24 and she attended Al Noor from the age of 3 is now utilising her sales skills daily showing us all of the merchandising and telling us about the different workshops at Al Noor where the children produce the fab t-shirts, canvas bags, key rings, etc. – they even sell great cookies, baked on site.
I have to say, we came away from Al Noor with a real sense that the people who work and volunteer there genuinely care about the children – I personally am delighted that the money we raised will go to very good use at Al Noor.
Thank you to everyone who supported us through our justgiving page, we ran because we can and you guys gave generously because you can… Together, because we did, we've made a difference!