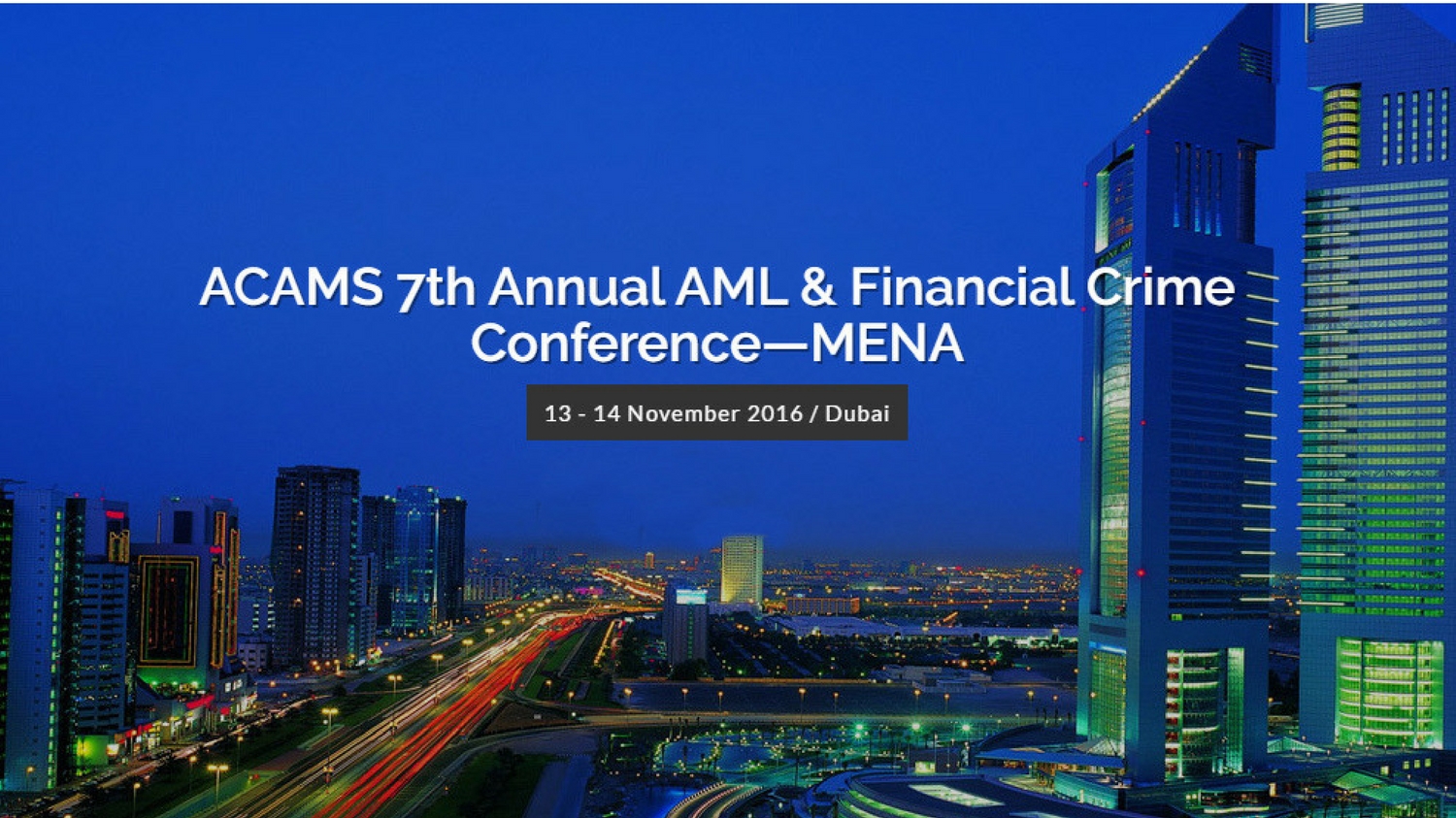 USD 1.6 trillion of criminal proceeds flow through the financial system each year! Let me say that again…..USD1.6 TRILLION!
This was the mind boggling figure I took away from the recent ACAMs 7th annual AML & Financial Crime Conference – MENA in Dubai.
The conference was a who's who of the leading Compliance, Financial Crime, AML & Regulatory professionals from the GCC region. Heads of Compliance and Financial Crime experts from BLOM Bank, Emirates NBD and Bank Muscat sat alongside Directors from Homeland Security Investigations, the Global Center on Cooperative Security and Qatar Regulatory Authority.
Rick McDonnell ED ACAMs and Former Executive Secretary, Financial Action Task Force (FATF) opened proceedings. From the off, it was clear that the whole banking and financial services world is becoming more and more affected by the continued globalization of our planet.
Gazillions of dollars are moving around the world at any given point in time. In order to maintain control and ensure this is being done legally, many different organisations must come together and build a united front in the fight against financial crime.
Governments and regulators need to work with banks, banks need to work with law enforcement, law enforcement need to work with….well everyone. At the center of this global battle between good and evil – the humble compliance officer.
Raymond Villanueva, Deputy Director – Homeland Security emphasized in no uncertain terms that every compliance officer in the room was directly involved in the fight against terrorism.  However they were not alone. Banks spend millions investing in the latest risk based technology to back up their troops in the field.
As a Compliance & Risk recruiter for Mackenzie Jones Middle East, I was excited to brush shoulders with the leading professionals in the industry. However, I must admit I was less excited about some of the Case Studies. "Mastering the Art of Well-Written Suspicious Transaction Reports (STR's)" didn't exactly fill me with enthusiasm. However, it was from this very session that the true importance of a compliance officer was to be revealed.
We learned how a hugely successful construction company in the Americas was going from strength to strength. They had won numerous government contracts. They were building roads, schools, hospitals and even churches. They had a Board and all the usual C-suite level positions in their company structure. It was well organised, hugely profitable and expanding.
Then one day a man walked into a bank in Puerto Rico with quite a large sum of cash. On the face of it this is not necessarily a problem. This happens every day. However something seemed strange about this transaction. It was very out of line with the usual deposits and withdrawals relating to this account. A compliance officer assessed the situation and went with their gut feeling – they filed an STR. The result….? This led to taking down one of the biggest criminal gangs in Puerto Rico history. The entire company was a front. It was a sophisticated criminal gang that had worked its way into the government and banks and had profited millions of dollars from their operation. Now, the criminal gang leaders were all going to prison for a very long time. Taking down this criminal gang all started with the compliance officer filing the report that day.
There is no doubt that technology and cutting edge Risk systems are key in the fight against cyber and financial crime. However, one point that the leaders of this conference were keen to stress again and again was the importance of staff. You can have all the systems in the world, but unless you have well trained staff to utilize these systems and communicate their findings to the relevant authorities, you will continue to leave yourself exposed.
The Compliance Officer in Puerto Rico may have won this battle but with USD1.6 trillion dollars passing through the systems each year it seems the criminal gangs are winning the war…..can the global leaders come together with the relevant authorities to work together and reduce this figure? Only time will tell…….
For career opportunities in Compliance & Risk please contact ruairimckeegan@mackenziejones.com