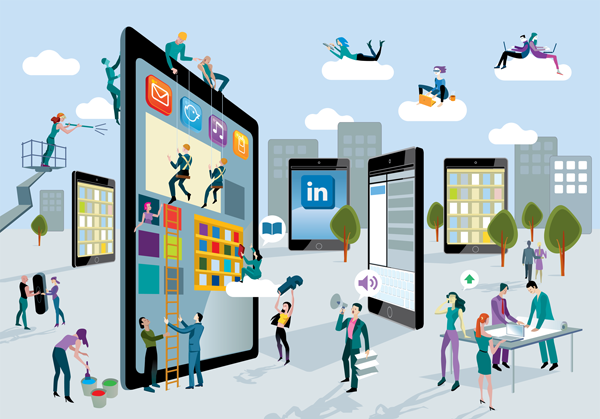 When LinkedIn launched it was said that it would be the end of the recruitment industry. That's true, to a certain degree.
It's more accurate to state that LinkedIn is the end of the recruitment industry as we knew it.
But it's not just LinkedIn that has disrupted the recruitment industry. It's the evolution of digital technology itself that has turned the industry on its head.
Some recruitment specialists have been resistant to change, complaining that digital technology has made their life harder. They dislike having to be "plugged in" 24/7 and the "Big Brother-ish" nature of approaching candidates online. Resistance is futile.
As digital technology is a mainstay of our modern lives, fighting change is silly. The only real choice we have is to embrace it and find creative ways to use it that supports our goals as consultants.
And let's face it, recruiters – in fact, individuals in general – who adapt quickest to technological innovation usually have competitive advantage.
So how is digital technology revolutionising the recruitment industry? Here are the three areas we've seen it have the biggest impact.
Customer Experience
Digital technology has improved the hiring process and has allowed us to engage candidates and employers in a way that wasn't possible before.
Recruiters are likely to use Skype to interview potential candidates for example. And the improvement in recruitment marketing technologies has enabled a faster, easier application process for candidates.
With the accessibility of digital technology, candidates and employers also expect greater transparency and frequent communication updates. Some recruiters are using mobile technology to notify ideal candidates of vacancies. Others are using LinkedIn to provide progress updates. Recruiters who use technology to provide exceptional client service are the ones that are greatly benefitting from the digital revolution. And as there is competition to attract talent from Generation Y, and Generation Z – the digital natives who were brought up never knowing a life without the internet – it is vitally important that recruiters use advancing technology to connect with these individuals.
Visibility
Employer branding is essential to standing out from others in the industry, particularly when competing for talent. It is essential that businesses have websites and social media platforms that provide candidates with information and an insight as to the company's values, mission, values, workplace environment and employee benefits.
For example, if an employer (or recruiter) wanted to hire talent for his/her business, and the business isn't visible online – there's no website, no LinkedIn company page, no social media accounts – you'll find it tough to try and engage potential candidates. Talented candidates know their worth and can afford to be picky, they will judge your business by its online image and presence so make sure to improve it if you can.
Now on the flip side, recruiters and hirers can use search engines, social media platforms and LinkedIn to get more information about a candidate than a traditional resume provides. So if a candidate has an unprofessional Facebook profile pic or zero LinkedIn recommendations from previous employers, recruiters and hirers may be wary.
The internet has also made the industry more transparent, and recruitment agencies are held much more accountable than they used to be. One bad experience can lead to a candidate sharing a negative opinion on Facebook or a damning tweet, which can cause large reputation damage. So it's vitally important that recruitment consultants prioritise customer experience in an open marketplace.
Data Analytics
We can use technology to understand how effective our recruitment marketing has been. We can view and export data from LinkedIn, Facebook, Twitter and Google Analytics. We can used advanced filtering techniques and other innovative assessment tools within our recruitment software and databases to help us find ideal candidates. With these tools, we get a much better insight into our recruitment business, helping us save time, make better strategic decisions and improve the customer experience.
For a recruitment agency in the Middle East that embraces digital innovation, choose Mackenzie Jones. You can reach me directly on email rahmanrisila@mackenziejones.com