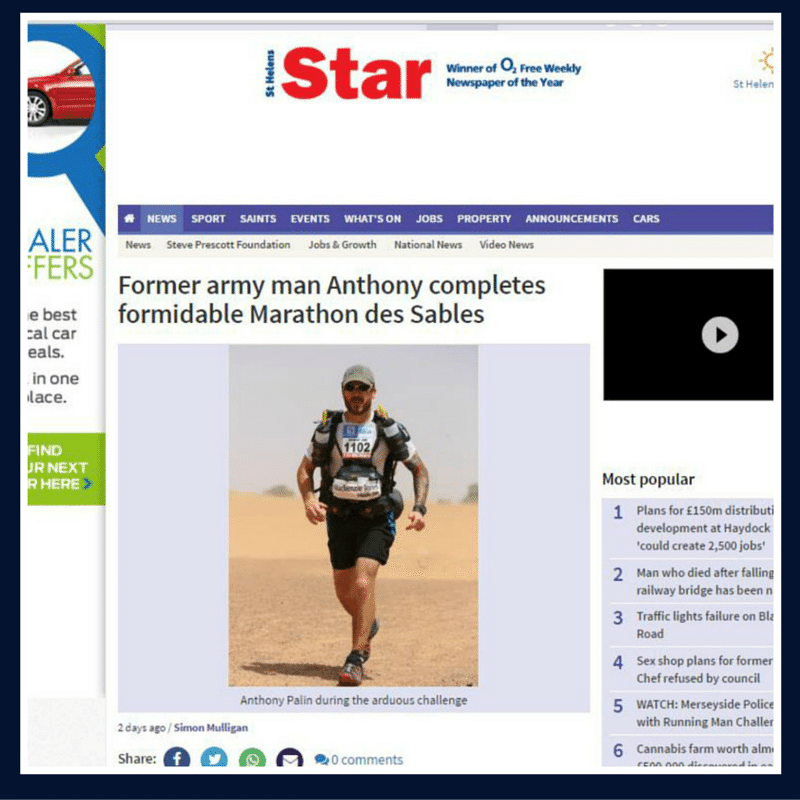 Last month our super-charged MJ Warrior, Anthony Palin, took on the incredible Marathon des Sables in the Sahara Desert, supported by Mackenzie Jones.
For those of you who haven't heard of the MDS challenge it is commonly known as the 'Toughest Foot Race on Earth', so no mean feat then Ant?!!  It's what's known in the trade as a Multi-Day Ultra Marathon, which translates into layman's terms as 6 marathons in 6 days, in the blistering Sahara Desert heat, carrying your own backpack!
So why did he do it?  Well Ant is a Dubai based, 30 year old, war veteran from England, who ran the MDS for a cause very close to his heart – Scotty's Little Soldiers – a charity which helps young children who have lost a parent in service.  I am delighted to report that Ant successfully over achieved his fundraising target, making the gruelling and relentless training in the Iraq Desert worth it.   Word of Ant's amazing achievement has even reached back to Blighty where this article was published http://m.sthelensstar.co.uk/news/14491790
Mackenzie Jones have been extremely proud to have sponsored and supported Ant up to and through this challenge.  I think we can agree he is formidable guy – determined and focused with a very big heart.
Well done, Ant!