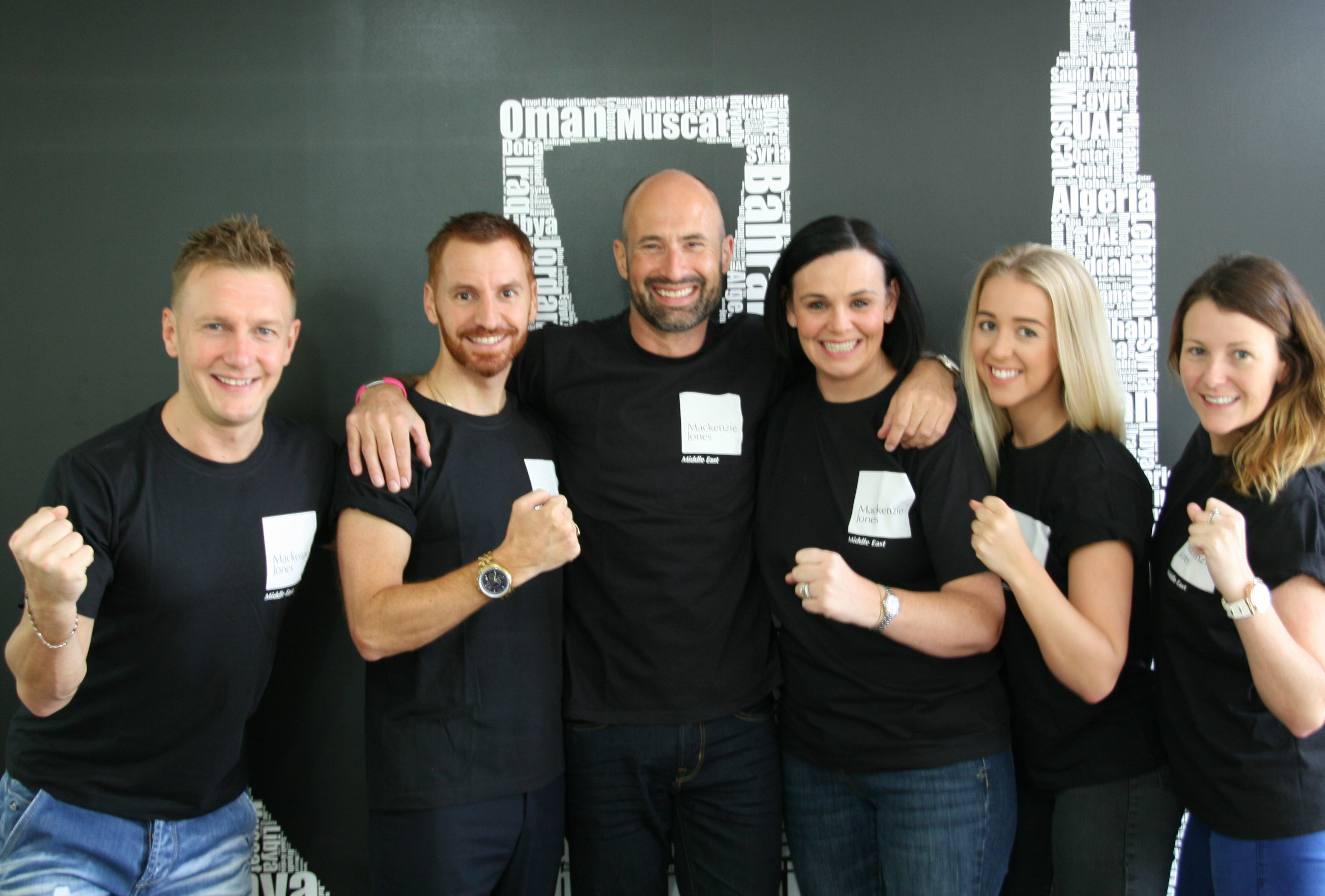 MJ WARRIORS – DESERT WARRIOR CHALLENGE
Mackenzie Jones has put together a somewhat eclectic team of warriors to take part in this year's Desert Warrior Challenge.
On October 23rd at 11AM David Flemming, David Mackenzie, Matty Hayfield, Ali McCaffrey, Kate Hudson and Beth Cronin will all put their fitness (or lack thereof) to the test by taking on 22 obstacles over 10km (in blazing hot desert sun might I add…!) at the Desert Warrior Challenge!
So… why would we subject ourselves to such a challenge?  Well, it's a great excuse to get fit, a good opportunity to work as a team – the 6 of us work in 4 different departments (it's good to mix it up a bit!), but more importantly we have the chance to raise money and support the amazing work that Al Noor Training Centre do.  Al Noor Training Centre is a locally registered charity under the patronage of HH Sheikh Mansoor Bin Mohammed Bin Rashid Al Maktoum, they work extensively with children who have special needs and they help the children achieve their full potential.
It would be great if you could help us get to our fundraising goal of Dhs 20,000/- please click on our justgiving page –  any amount big or small would be greatly received.  We really want all of our hard work to count towards something and the best way we can do this is to raise as much money as possible to help Al Noor Training Centre continue their amazing work.
We will keep you up to date over the coming weeks, post some photos of our training sessions, and let you know how our fundraising is going.
Thank you – David, Beth, Matty, Ali, Kate & David!
M J  W A R R I O R  P R O F I L E S
David Flemming
I am competing in the Desert Warrior as it looks like a lot of fun; it is cross functional and will test every part of the body.
I am turning 40 next year and vowed to be in the best shape of my life for that date. I have been following Chris Pratts Prison routine that he used for Jurassic World training. This involves body weight training, muscle cardio and lots of repetition. The target is 210 squats, 210 press ups and 210 sit ups, 3 x per week. The exercises are done in a reducing fashion, 60, 50, 40, 30, 20, 10 in min circuits of 3. I started 3 weeks ago. I can do the squats and sit ups, but press ups I am up to 120 so need to work on that…
Feeling great about helping a local charity as well.  Roll on October!
David Mackenzie
This is a great event to show how good Mackenzie Jones is as a Team……
I have been keeping fit most of my life but in the last five years have stepped up the frequency and effort. After being told I could no longer run long distances ( I was a marathon runner previously) I took up cycling and have competed in the Argus race in SA, 92K in Dubai and more recently in Sweden and will be competing in 2016 in the Cape of Good Hope Race, The Cape Argus as well as tackling the Alpe D'Huez in the summer.
I am building my all-round fitness with circuits and swimming but need to focus on the short sprints to build some explosive focus!!. I exercise six days a week and typically manage over 200k riding, 100 lengths swimming and at least three cardio/weight sessions in the Gym.
As part of the MJ Warrior team I want to make sure everyone finishes and we complete the event as a Team.
Go Team MJ!
Matty Hayfield
Short, sharp and strong I will be smashing these obstacles (well you have to be in the right frame of mind don't you?) 😉
I've been having PT sessions weekly for the last six months and have been focusing on strength training and building muscle mass. Recently I have been running outside with my Director after work on a weekly basis, getting used to cardiovascular activity in the desert heat. Generally this has been a 5k run. However I have managed to increase my running capability to complete 9.67k so far in just under one hour.
Core stability and strength is key to maintaining stamina and overcoming tricky obstacles, to that end I have embarked on a 'Crossfit' course which will build these areas. I am looking forward to our MJ Warrior team PT sessions that are forthcoming to really get the team spirit alive and get us to where we need to be.
LET'S SMASH IT MJ!!!
Ali McCaffrey
As the name suggests, the Desert Warrior Challenge, will indeed be a challenge!  For me at least….!
I get most of my exercise running around after and keeping up with my two daughters.  Regular exercise has not been high on my agenda for the last couple of years and it was time to address that.  When the guys asked me to join the MJ team, I took it as a great opportunity to take the bull by the horns and get my fitness back, so I agreed on the spot and straight away signed up to a running club (before I had the chance to change my mind!!).
Since the beginning of September my weekly training has consisted of doing a session of running drills and interval training outside in the park, supplemented by a strength and conditioning class and topped off with a 6am yoga session on the beach before heading to work.  I cannot believe the difference 3 weeks of training has made to my fitness (maybe there is a Desert Warrior in there somewhere?!).  By the time the DWC rolls around on 23rd October, I'm hoping to be fighting fit, rise to the occasion and raise lots of money for Al Noor Training Centre.
Kate Hudson
Aside from the fuzzy feeling you get from doing something amazing for some very special children, Desert Warrior for me is about testing my abilities and pushing myself to achieve.  I don't particularly like exercise and certainly am not very good at it unless I'm being shouted at (though I am sure David Mackenzie will be on hand with his usual words of encouragement!)
The extent of my training consists of a little SpeedFlex and working up a sweat on the driving range.  Best get doing some running!!
Bring it on!
Beth Cronin
I decided to take part in the Desert Warrior Challenge as I recently joined Mackenzie Jones and it is a good opportunity to get to know my colleagues a little better, as well as benefitting from upping my fitness and challenging myself!
As a team we decided to fundraise and donate the money to Al Noor Training Centre for special needs children which was also a massive motivator as I have previously taken part in charity work for underprivileged children in Kenya, so it was something that means a lot to me; it's easy to get wrapped up in Dubai-life, so it feels good to give something back to the community.
In addition to my twice-weekly PT sessions, I have added in some cardio training in preparation for the Desert Warrior Challenge!  A newbie to the running track I have been mixing up several sessions of LISS and HIIT each week in order to build up my long-distance endurance as well as my stamina. I am now comfortably completing 5k and hope to be breezing over the 10k mark by 23rd October!