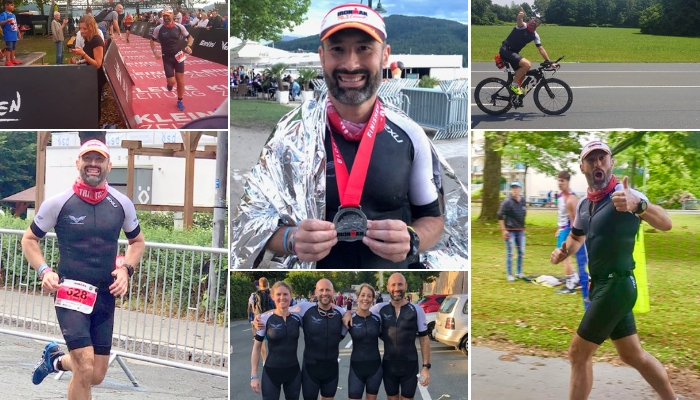 My journey through tiredness, pain, disappointment, happiness and the ultimate elation of hearing those words "You are…"
My first full Ironman was in Austria in sunny/ rainy/ hailstone Klagenfurt. Let me give you some insights into me. I am a 51 year old 'try harder' age grouper with over 5 half IM races under my belt. I race for Team Angel Wolf, trained by Jan Gremmen/ The Flying Dutchman Team and inspired and motivated by TriDubai and Hasan Itani.
It is probably best to start with the training. I really did put a lot of training in, on average 16 hours per week with most of the rides starting at 8.30pm and ending at 2am the next morning. The heat and humidity in Dubai is a killer. I had a great group of people who rode, ran and swam with me and that kept me focused.
Jan had me on a very strict plan and I followed it to the letter, well apart from the actual race; but that story is for later! I am a very average swimmer so Rory Buck did his best (and he is exceptional) to get me from drowning very slowly to the most important part of the swim… getting out of the water not broken! My running has always been a mixed bag but I can get round in a reasonable time.
So, this all seems the perfect ingredients to make me an Ironman. Well in a perfect world, yes, but on July the 7th in Klagenfurt, Austria it was not going to be an ordinary day.
The Swim
4,000 people stood waiting in nervous anticipation in beautifully clear blue skies on the shores of Lake Worthersee. My training 'other half' Emma Holt waiting with me in the 120-130 time lane. The music was beating and Paul Kaye gave Team Angel Wolf and TriDubai a big shout out. He made us both feel super excited and very nervous at the same time but then we were there at the gate, ready to start. The swim was amazing, relatively calm and no real hassle in the water. I concentrated on everything Rory had told me and booom I felt great. The swim is a big loop of the lake in near perfect conditions followed by a 900 metre swim up the canal.
Disaster struck at the 3km mark, cramps in my left calf and then my right stopped me in my tracks. Luckily I have some help and after 10 minutes of agony managed to get back on my way up the canal. Defeatist doubts started to creep into my brain as I realised I was 10 mins behind already. I knew I had to make up time but this is where my planning (and Jan's) started to unravel!
The Bike
This is my happy place. I love the bike and am reasonably quick. Jan knows this and has given me strict instructions to stick to the plan. I did exactly that… well for about 10k then did my usual and shot off like a scalded cat (note to self… always listen to your coach, they are ALWAYS right).
The ride was amazing, beautiful rolling hills with villages full of cheering spectators. It must be said that the support in Austria is unlike anywhere I have raced, they are enthusiastic to say the least and as the day (and the beer) wore on they got more excited. Fantastic. Dario (one of our teammates Stef's husband) kept popping up and taking amazing photos and cheering me on. Life saver. I focused on keeping my heart rate low while pounding up the hills, not the easiest feat.
I stopped at the Bike needs section (91 km into the ride) to grab my sandwich and drinks. Again, preparing a door wedge with peanut butter sandwich was not my brightest idea. I did offer some to a fellow rider but for some reason she was not keen? The weather was amazing and I was flying fast…
Then it struck, first the rain, then the torrential downpour followed by the hailstones. It was impossible to see and the hail was deafening. The marshals pulled people off the course (including Emma) and according to the IM it was very close to being black flagged (cancelled). At this point I did not care and just focused on getting to the end. The biggest hill was to come. I was starting to tire and the hills were beginning to get hard. To give you an example, I pushed out an average 213 watts for 180k (260W for 20 min and 235W for 90 min) and my TSS was 538. I pushed too hard and ignored my plan, this combined with the bad swim was about to hit me in the arse!!
Coming into transition was a massive relief as I was cold, tired and almost deaf from the hailstones. As I came in I felt a massive surge of energy, the crowds were huge and cheered me on for the last 1km and finally I saw my wife, Elfty. She said four words that made me feel amazing – You are my Ironman (a bit early but it was what I needed)!
Transitioned looked like a casualty scene from a war, paramedics everywhere with people wrapped in space blankets. I did not realise at the time that the weather had beaten over 1,000 people who DNF'd (did not finish). I raced through and sat down only to be told by an old dude (even older and quicker than me!)to chill and take my time. Great advice and so I slowly got my sh%t together, both mentally and physically. This is when it dawns on you… I have to now run a marathon. My best advice was to do what I was told. It is a 5km run, then another then… I was tired and mentally starting to unravel.
The Run
Running out of transition was like a shot in the arm. Cheering crowds everywhere shouting my name. I started to feel all the emotions coming out. The first 5k was a dream and I started to see my teammates on the run course, Kevin Griffiths, literally sprinting the last part of his race hotly pursued by Inalize. The run course was good and my strategy was to run between all the aid stations. I kept an okay pace and aimed to finish the course in 5 hours. 21k came quickly and I felt good, no pain from my calf and stomach seemed good.
Running through the town square was a real treat. The charity bell in the middle surrounded by super enthusiastic (inebriated) supporters was the highlight of the race. This is what keeps you going. The sheer numbers of supporters in Austria is outstanding. 30 km appeared and things started to go wrong. I was drinking and eating all the way around but my hips and stomach were complaining. Being sick or not was a constant debate between my body and my brain!
At this point you just mentally have to harden up. It is extremely difficult but this is when your training and your real motivation starts to come through. I did not want to let people down and I had to beat 14 hours. Your head starts to argue with your heart at this point. Walk, run, stop, I need to take my cat to the Vet, sit down, vomit, don't vomit, how is Trump still President and why does my race number keep flapping? You get the idea, a lot is happening and all I want to do is move forward. I stopped to chat to Emma and give Elf a massive kiss (not sure I was a very attractive sight covered in sweat, isowater and liberal amounts of peanut butter).
The last 4km was excruciating. My body was starting to literally fall apart and my mental strength was at an all time low. As I was nearing the finish line, feeling broken, I met an old lady with her dog. She said "David (name is on my Trisuit!), you are almost there and then you will be an Ironman. Your pain is temporary but your memory of finishing will be permanent, Schnell, get a move on and stop walking" It was exactly what I needed!
The Finish
I was almost there, I felt amazing. for some reason I had a massive boost of energy and could hear the crowd and those immortal word 'You Are An Ironman' The crowds were shouting my name and I suddenly started running like a leopard rather than a broken donkey.
I ran up the carpet, high fiving everyone including my superfast teams and heard those words I so needed to hear,
David Mackenzie – YOU ARE AN IRONMAN!
13 hours and 30 minutes. I am happy!
The Feedback
Well what everyone says about an Ironman, it is bloody hard. The training, not the race, is the key. I trained very hard with some amazing people. I rode 1500km with Dee Boys and Stu 'Spicy McChicken' Foster, I swam close to 400 km with Emma and ran, well just ran, ran and ran.
Being very critical, I messed my swim up and went out and killed the ride but this ultimately ruined my run. Always listen to your coach. Jan almost predicted what I would do on my ride and what the effect would be. Well, I did not disappoint him! I have learnt from this and have felt the pain.
Teammates are everything. I went to Austria with a great bunch of people that did nothing but encourage, motivate and support me.
I have too many people to thank but my wife has borne the brunt of all of this. Thank you, my lovely Elf.
My ever patient coach Jan Gremmen, swim coach Rory Buck and all my teammates at Team Angel Wolf, The Flying Dutchman Team and the whole TriDubai community. The messages and posts were truly amazing. Thank you! Ironman takes over your life but ultimately I loved it and I truly believe anyone can do it.