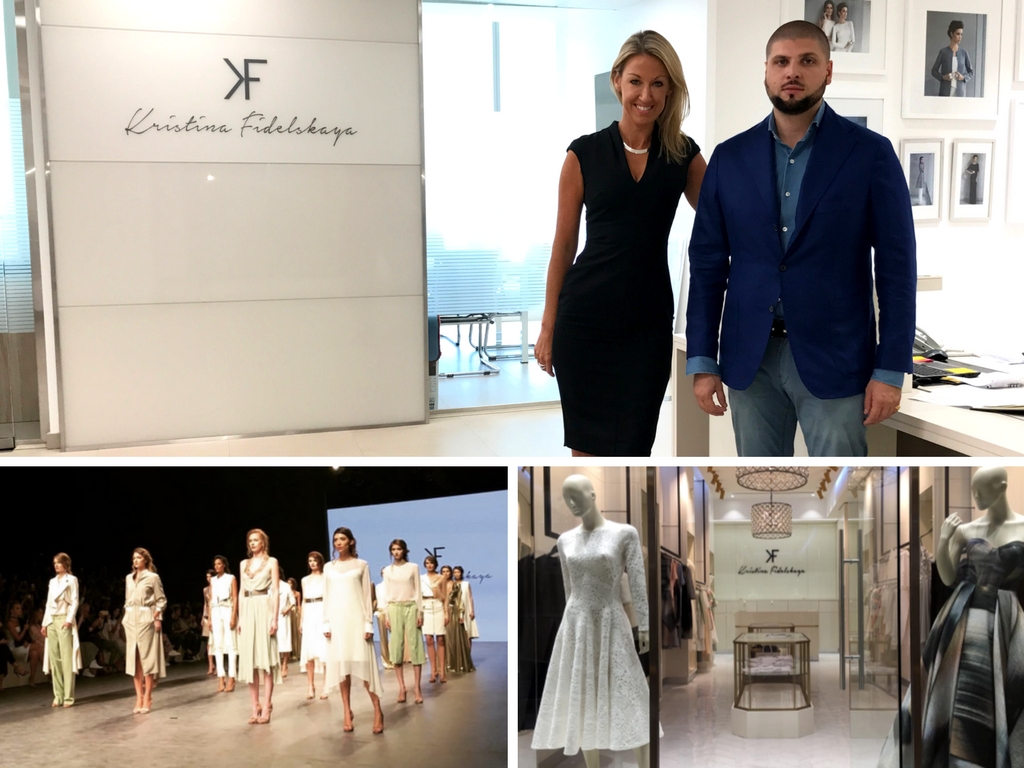 Kristina Fidelskaya is the Founder and Creative Director of her premium contemporary namesake label, based in Dubai.
Since 2014 Kristina Fidelskaya has sought to target a growing segment in the Dubai market by creating high end RTW designs to suit the multi-facetted lifestyles of a well-heeled metropolitan customer. Rahim Shah is the CEO of KF and having known Rahim since 2014, I have seen the brand experience double digit sales growth year on year and gained strong traction in regional press.
I caught up with Rahim Shah CEO of UAE-based designer Kristina Fidelskaya about their fast growing luxury ready-to-wear womenswear brand, now seeking to expand in the European, America and Asia market through wholesale and now operating a showroom in Milan.
Kristina Fidelskaya's new store has opened this month and I caught up with Rahim on his thoughts about their exciting expansion plans and his thoughts on the retail market within Dubai and the GCC.
What is your opinion on luxury retail/fashion in the market place?
Luxury retail, specifically in Dubai, consists of major brands entering the Middle East given the economy and cultural environment.  My goal is to disrupt the tune of the fashion market by being based in Dubai with global expansion on the horizon, instead of vice versa.  Although the designs are not typical of the regional market, KF is proud to be headquartered in the Middle East while catering to women from all cultures.
Where does Kristina Fidelskaya fit into the market?
Kristina Fidelskaya is entering a growing market in Dubai that produces luxury ready-to-wear designs.  After starting the brand in 2014, we all really work hard to break the stereotype of an emerging designer through classic and timeless designs with a focus on the luxury experience.  Therefore, We strive to have the Kristina Fidelskaya experience different than any other luxury retail brand.
Who is the Kristina Fidelskaya customer?
Being a luxury ready-to-wear brand, Kristina Fidelskaya focuses on the modern yet feminine woman with multi-faceted lifestyles.  The designs cater to women who need to go from day to night or from the office to dinner with a quick change of accessories.  The Kristina Fidelskaya woman is empowered and successful, thus being the woman everyone wants to be.
How do you feel about the level of talent in the market? And where do you think there is a shortage?
The level of talent in the market is divided into two parts.  There are those who love fashion and work hard, and then there are those who believe wholeheartedly in a brand and work to make it successful.  The shortage in the market is finding a team that have a can-do-will-do mentality and go above and beyond their scope of work to show initiative.  Luckily, we have great talent within our brand and continue to expand in order to bring Kristina Fidelskaya to the world.
What makes Kristina Fidelskaya a dynamic and exciting workplace?
One of the most exciting things is that we are based and headquartered in Dubai, where there are a lot of developments going on in the field of fashion. Dubai has created a new hub for the creative industries, where we will be based as of 2017, in which the government is trying to collectively group all the designers and fashion businesses together to better fly the flag of the UAE and Dubai in the fashion world.
What opportunities for career development exist at the company?
We of course have regular performance reviews, but we also really try to create a tailored career path for our employees. Employees can express to us that they want to be more involved in human resources perhaps or to be involved in the creative process. We then, more often than not, find a feasible transition for the employee, developing and educating their skill set and personality traits and attributes they need for the role they want to do. As we see the business create new lines and revenue streams, we can offer employees the possibility of transferring into alternative job roles. As we are growing rapidly, our employees will have more and more diverse opportunities.
What attributes do you look for in employees?
I usually look for three things: talent, passion and experience. Whatever the applicant's position is, one: they should be exceptional in their field, they should have a can-do-will-do mentality. But they should also be able to understand the objectives and challenges outside of their own scope of work.
We believe in talent, and we believe that talent can be nurtured and developed, but I do believe that passion is an essential part of it. It's the fire that you have that makes you get up in the morning every day. And then, crucially, we look for applicants who have experience from executing their role in the past — falling down and getting up again — making mistakes that other people don't have to make.
Kristina Fidelskaya's has now opened in the Wafi Mall – November 2016.
Kristina Fidelskaya is also planning retail operations in both its native market and Europe and is currently stocked at influential retailers such as Galleries Lafayette and has entered into successful collaboration with MAC and Sensations Event which took place this month.
For career opportunities with Kristina Fidelskaya and across Luxury Fashion & Retail sector please contact us via info@mackenziejones.com