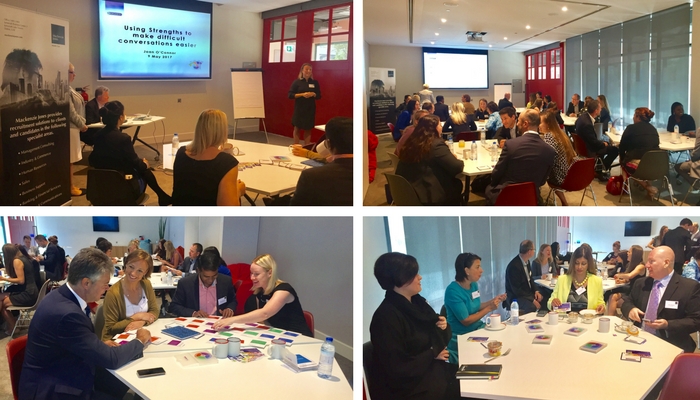 Julie Nicol, Manager of the Human Resources division at Mackenzie Jones, hosted the inaugural Big HR Breakfast at the Rove Hotel in Downtown yesterday, welcoming over 30 senior HR professionals from industries including banking & legal, FMCG, pharmaceuticals and oil & gas. She was joined by David Mackenzie, MD and Ruairi McKeegan of the Banking & Insurance division at Mackenzie Jones.
Julie was delighted to collaborate with career and leadership development consultancy 10eighty for the first event. Joan O'Connor, Head of Leadership Development at 10eighty, did a fantastic job of leading the session on utilising strengths-based leadership techniques to facilitate difficult conversations in the work place. Split into small groups, our attendees were encouraged to share their own strengths with HR peers and to relate these back to real examples in the workplace.
Joan highlighted some of challenges faced by management teams in the Middle East, where difference in cultures, personalities and approaches to work are even more apparent than in other parts of the world. She suggested ways that strengths-based coaching can bring more successful conclusions to difficult conversations – for example conflict resolution, terminations or influencing senior leaders.
There was time for networking before and after the session, allowing people to get into the office on time – ready to have more engaging and open conversations in their organisations!
The Big HR Breakfast will be held quarterly, with the objective of bringing senior HR professionals together in a relaxed setting to discuss regional HR topics, new methodologies or best practice. We are already looking forward to the next one!
If you are interested in attending one of our HR events, please email us via info@mackenziejones.com for more information.
For more information on 10eighty's leadership and career development programs, please email Sophina Rajah at Sophina.Rajah@10eighty.ae.