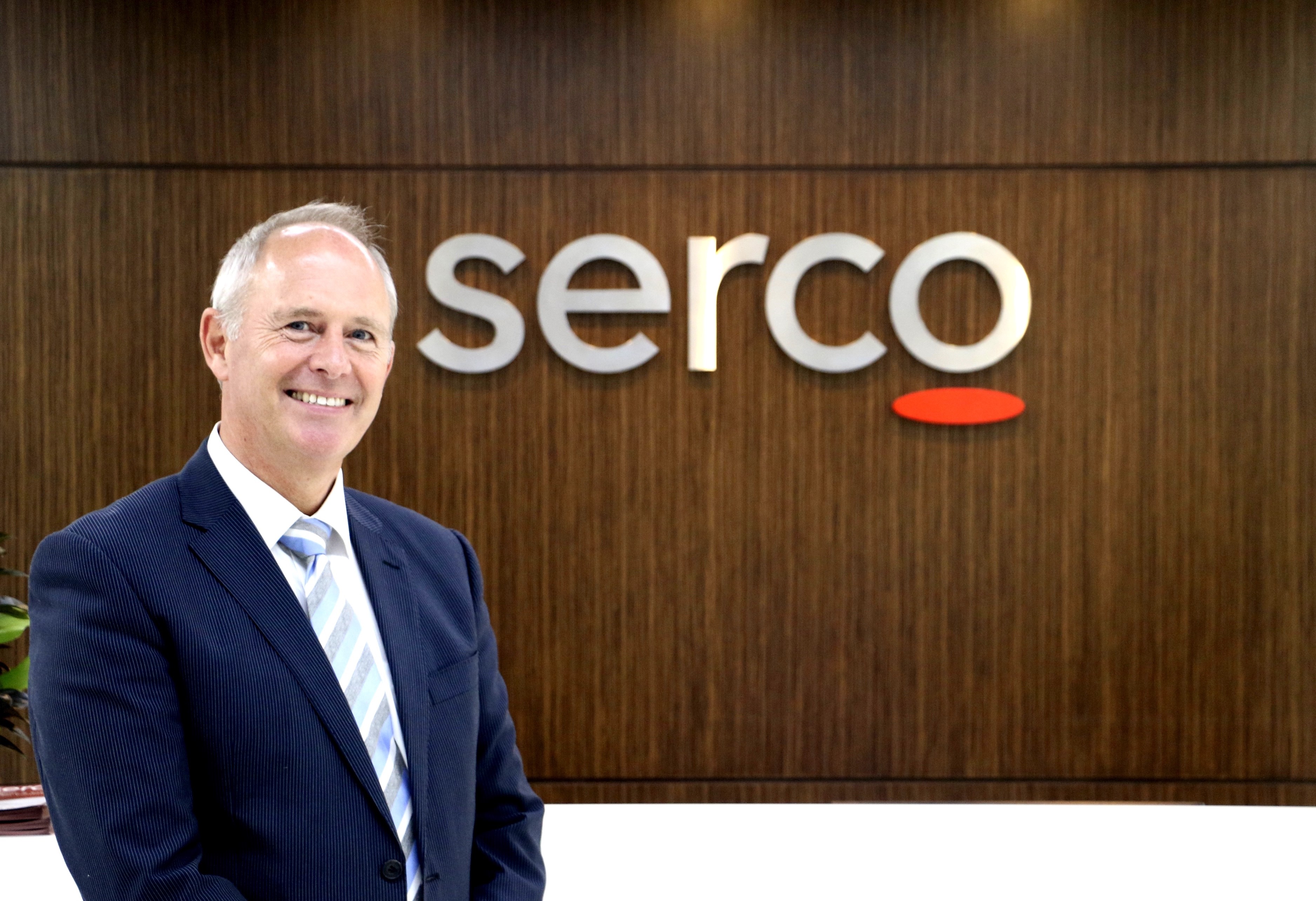 Series 1: Meet Paul Gaskin, Middle East HR Director of Serco
Julie Nicol, Manager of Mackenzie Jones HR practice sat down with Paul to discuss his own career, the HR agenda at Serco and the reality of HR in the Middle East region.
Tell us how you got to where you are today?
I spent the first 18 years of my working life working for BAE SYSTEMS in the UK in a wide range of roles including Electronics, Software and Systems before moving into a Manufacturing Engineering role. As part of that journey I gained Higher National Diploma in Microelectronics and Communications, an Open University Degree and a Fellowship in Aerospace Manufacturing from Cranfield. I met a visionary HR Director, Jim Newell who opened my eyes to the possibility that HR could change the way businesses were run to deliver greater performance by getting the people stuff right. In 1994 I moved into HR and held a number of roles, including HR Business Partner, Head of Learning and Development and spending my final months at the BAE Virtual University at Farnborough. I completed my CIPD qualifications and later became a Fellow, FCIPD.
I moved to Pricewaterhouse Coopers in 1999, where I led the outsourcing of HR transactional services from 19 countries in Europe for a large global Telecommunications company. This was the scariest job I had ever had a taught me a huge amount about the commercial world.
In 2001 I joined Serco Group and have held a number of roles including HRD, Transition Director, COO and Transformation Director across different industries including Science, Defence, Nuclear, Transport and BPO. I have lived and worked in India, Hong Kong and the UAE. My biggest role was HR Director for the AMEAA region: 21000 employees, 1.5 billion GBP turnover and 11 countries. Today I am based in Dubai as the HR Director Serco Middle East.
I met my wife when I was 15 years of age and we have been happily married (my words) for over 34 years and have two children who are now adults, both of whom live in the UK. This is my second time in Dubai, my first time was back in 2008 when I built the team that mobilised the Dubai Metro, and I returned in 2014. I live on the Palm, because I love the beach, reading and looking at the sea.
What is at the top of the HR agenda for Serco Middle East in 2017?
In a nutshell… growth! Serco is hugely ambitious to grow in the Middle East. We currently operate in three sectors: Aviation and Defence, Integrated Facilities Services and Transport. We have bid to mobilise and operate the Doha Metro and Lusial Tram and the Riaydh Metro. These are huge contracts that could double the size of our ME business. Key to enabling our growth is Nationalisation. We are serious about becoming an Employer of Choice for GCC Nationals. We have a vision to transfer the knowledge and expertise of none-national to Nationals to run the businesses we currently operate. We know this will take time, but fundamentally it is the right thing to do both commercially and to build self-sustaining capability for the region. It is also imperative that HR plays an important role in the growth agenda. We are a people services business. 50-60% of any bid cost is people, we need to constantly challenge ourselves to come up with innovative solutions to make the solution for the client both creative and cost competitive. In addition we must become more efficient, more measureable in the way HR delivers service to the business and make life easier for managers.
How is HR viewed within the business? How has it evolved since you joined?
In September 2014 when I arrived in Dubai, HR was in a mess. We had an attrition rate of 50%, the function did not have a clear mandate from the business, many of the systems were not working as they should and morale was at an all-time low. The Employee Engagement score was just 33%.
Today 80% of the HR team have changed, we have one plan, a dashboard that measures progress each month and an Engagement score of 72%, so we are making progress. The CEO holds HR in high regard and has publicly stated that some of our project deliverables have been outstanding.  However we still have a long way to go.
If you leave the Middle East tomorrow, what are you most proud of achieving in your current role?
I am proud of the HR team that I am building and the tangible change they have made to the business. In particular the HR management team: each of them are outstanding human beings, committed to doing the right thing and committed to deliver.  I am lucky that I have a CEO who has been hugely supportive of HR. As HR leaders we need to be honest: it is only with the support of the CEO in particular that we can be successful for the business. Lastly, but never least, I have worked at Serco since 2001 because I can be a HR Director and make people decisions that are based on our values. I am able to do the right thing every day and balance the needs of the business and the people we employ. Many companies my say this, but I live my work life every day knowing it.
When recruiting for your own team, what key skills or characteristics are game changers? 
A passion to make a difference
Evidence of tangible delivery
Will always do the right thing
Looking back on your own career, how does the Middle East compare to other regions you have worked in?
It's amazing! I have loved every country I have worked in for very different reasons. However the Middle East has such diversity, ambition, potential and unbelievable pace. I would not want to be anywhere else in the world at this time in my career and life.
Which areas of HR need to improve in this region in order to compete on a global scale?
We need to talk and understand the language of government and business. What do they want to deliver? What are their risks and constraints? What would enable them to move at a greater pace? If we understand the context of the issue, we can devise solutions that are relevant and tangible to their success.
What are your own development areas at this stage in your career?
I am a bit of an old boy now, but I still have so much to learn to continue to have impact. I passionately believe the Nationalisation agenda is a strategic imperative. Whether that is in the UAE, Saudi, Qatar or Iraq where we provide Air Navigation Services or other countries in the region. I know Serco wants to make a greater difference and we have many ideas of how to build on the success we currently have. But how do we really make that step change when so many organisations have invested so much money and frankly just not got it right?  Secondly, although I believe I have a lot of experience in huge commercial projects, whether that is bidding for Sellafield Nuclear Decommissioning with a contract value of 19 billion GBP, the two huge rail bids for Qatar, KSA or operating at Executive team level for over 17 years, I still want to better understand how to deliver commercial and service performance through people. More importantly, how to make the case in hard-nose fact that people and the way you treat them matter.
What can an HR professional gain professional by working in this region?
I believe that the Middle East is an incubator to accelerate the development for international and global talent. The complexity of the region exposes HR professionals to a myriad of experiences in a short space of time that they need to lean to adapt and deliver. Whether it is dealing with the number of Nationalities we employ, the countries in which we operate, the different legal constructs, the Nationalisation agenda, the pace of change, living away from your support networks….all of these factors will add to the skill and knowledge of a HR professional. Fundamentally in many instances I have had to go back to first principles and ask myself "what are we trying to achieve?",  "what options do we have?" and "what will make the biggest impact whilst balancing risk and value for the business?". It really is a great learning ground.