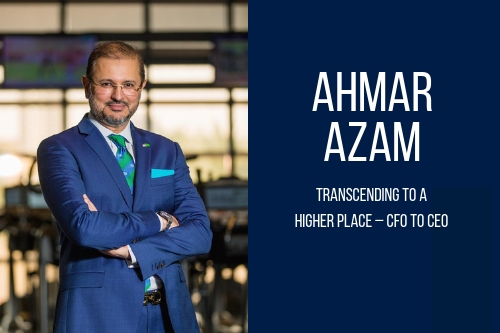 In these times, a depth in financial understanding is a clear asset. As an increasing number of businesses undergo a period of business and digital transformation, the days in which finance was seen as a business support function simply focused on producing the numbers is a thing of the past. We see an increasing demand for more 'commercial' finance professionals who work in close collaboration with the wider business to help sustain profitability and drive business growth. What opportunities does this create senior finance professionals looking to progress up the career ladder? Does it open up opportunities for them outside of finance? Ten years ago, there were as few as 5-10% of CEO's in the region who once served as CFO, but the last three years has seen a significant rise in the number of CFO's taking on the mantle of CEO.
I recently sat down with Ahmar Azam, who has successfully taken Leejam Sports Company, a global fitness chain to IPO in the region, and has since made the transition to CEO for the company. Here are some of his thoughts on making the transition from CFO to CEO:
1) Generally, CFO's may view organizational issues differently to CEO's. What are some of the main challenges you have faced since transitioning to CEO and how have you changed your approach to business?
Traditional CFOs have a tendency to perform hindsight analysis. In addition, they focus more on cost-controlling, risk averse approach to growth, etc. Those CFOs hit the glass ceiling in their careers very quickly. Progressive CFOs are more commercially minded. They understand that their most important job is to be the blind spot watcher of their CEO and be an effective co-pilot to the CEO. I would like to believe that my training and experience positioned me to be more of a progressive CFO. For such CFOs, the natural progression is to be CEOs.
In my case, I have had the opportunity at least twice before to head organizations. First time as the GM of an international bank, and then as a partner for a risk and CFO advisory firm, both in the US. In addition, during my tenure as the CFO at Leejam, I supported the previous CEO as interim CEO multiple times during the year during his vacations and extensive business travels. Hence the transition was not difficult. For me the real challenge was to leverage all that I had learnt in the company over the last several years, and translate all of that into a new vision for the company, and seek the buy in of both the shareholders as well as the employees of the company. We call it Leejam 3.0! I always enjoyed reading leadership books, but since I took over as CEO, I have increased my reading a lot more than I did before. I have to ensure that I allocate my time according to the needs of the business and the level of support various levels of leadership require to succeed. Last but not least, I remind myself every day that there is a better person now running the finance function, which is not me anymore!
2) There are often preconceived perceptions that act as an obstacle to a CFO's transition to CEO. These can include being too focused on the detail and numbers, which could compromise the bigger picture that is key to driving growth. What in your view is the unique skillset that a CFO can bring to the role of CEO?
I have always believed that the best suited candidate to lead an organization is a commercially minded well trained CFO. The obstacles only arise when the commercial acumen is missing. The best set of tools a CFO brings to the table are the finance knowledge and appreciation of risk management. Combined with the leadership skills that a CEO must have, it's a lethal combination of success.  
3) There is the argument that in order to become a successful CEO, a CFO needs more hands-on general-management experience. As someone who has developed a breadth of international experience, regularly taking themselves out of their comfort zone, what advice would you give senior finance professionals aspiring to one day make the jump to a CEO?
That is another excellent question. For finance leaders aspiring to be the CEO, my advice would be:
* Develop commercial acumen by participating in commercial decision making opportunities along with the CEO and learning from those experiences.
*Never be afraid to make a mistake.
*Start some type of a business, even if it is a small business. The real objective of doing so is to get experience. Even if your business fails, at least will learn a lot.
*Read a lot of leadership books and work on improving your EQ.
*Get exposed to handling and working with board members. These are the most demanding stakeholders one would have.
*As a CEO, your colleagues need to like you too. Spend more time in encouraging and motivating people. When people see you adding value to the company and to their own personal lives, their commitment and loyalty grows exponentially.
A fascinating insight from Ahmar Azam on making the transition from CFO to CEO and the building blocks required to get there. In an uncertain economic climate where there is an increasing emphasis on business transformation and saving costs, continuing to drive business growth and profitability can be challenging. This should create more opportunities for finance professionals and CFO's who are more number savvy by nature to one day progress to CFO. The key is to regularly put yourself outside of your comfort zone, always looking to expand your knowledge. This could be outside of work, reading leadership books, attending networking events and having a small business venture which may be a personal interest. When in the office you should become accustomed to working with board members and other stakeholders within the business who can be demanding. Be sure to always add value to the wider business and demonstrate your ability to be adaptable and make tough decisions.